Office Furniture Electrification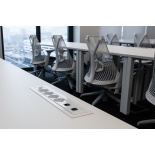 Our selection includes the following frames for furniture.

Box, Box Dou, Frame, Tube, Stick, Tower, Tower Dou, Strip. You can choose the color of the frames. 
The slot modules are generally black or white.

If you did not find a suitable solution, please write. We can create a unique solution for you with just the content you need.

The production time is generally 3 weeks.